RECIPES AND ADVICE
The simplest ways of cooking Lindisfarne Oysters are:
Poaching
The oysters should be removed from the shells and poached gently in their own liquor, and a little white wine or water, seasoned with salt and freshly ground black pepper and fresh parsley. They will need only a few minutes cooking until the meat changes to a creamy colour, and should not be overcooked as the meat will toughen.
In the Microwave
Oysters should either be fresh or thawed, and must have the top shell removed. Place oysters on a microwave tray and cook for 1-1.5 minutes on full power. Interesting toppings can be added prior to cooking, perhaps cheesy, or devilled crumb, or chopped tomato and spring onion, to give many tasty variations.
Lindisfarne Oysters are generally eaten raw, served on the half shell with a little lemon juice and black pepper, according to individual taste. Some people prefer a dash of Tabasco or lemon. Guiness also compliments raw oysters. Lindisfarne Oysters can also be cooked either in or out of their shell, the following being some tasty recipes.
In the Shell
Grilled Creamed Lindisfarne Oysters
Put a spoonful of cream over each oyster, with a sprinkling of pepper and a little Parmesan. Preheat the grill and cook for approx. 3 mins. Serve with bread.
Lindisfarne Oysters Provencal
Cover each oyster with garlic butter and a thick layer of Gruyere cheese and fresh breadcrumbs. Place under a hot grill or bake in a hot oven for 5 mins, or until crisp and golden.
Cornish Oysters
Fry breadcrumbs in butter until crisp and golden. Sprinkle over the oysters with black pepper, chives and parsley. Grill under a preheated grill for 2 mins. Garnish with lemon wedges and brown bread and butter.
Lindisfarne Oysters Rockefeller
Fry spring onions in butter, add parsley and spinach, stirring well. Add Anis de Pontarlier or Pernod, Worcester sauce, salt and cayenne pepper. Place some of the mixture over each oyster, sprinkle with grated Parmesan cheese and grill for approx 5 mins until mixture is bubbling.
Out of the Shell
Angels on Horseback
Wrap each oyster in a rasher of bacon, skewer and grill until bacon is crisp, turning as necessary. Serve on buttered toast. Oysters can also be barbecued wrapped in bacon, held between a wire frame for about 2 mins either side.
Fried Lindisfarne Oysters
Dip the Lindisfarne Oysters in seasoned flour, egg and fresh wholemeal breadcrumbs. Fry until golden in oil and butter. Serve with lemon wedges and Tartar or Hollandaise sauce.
Stir-Fried Lindisfarne Oysters
Fry shredded ginger and sliced spring onions for about 3 mins. Add the oysters and cook for a few seconds before adding the cream and allowing to bubble. Season to taste and serve with rice and a green salad.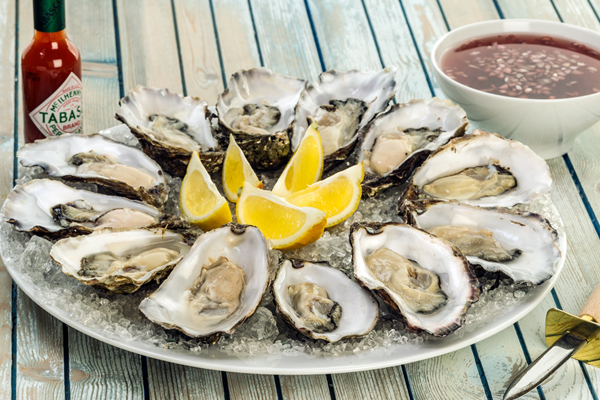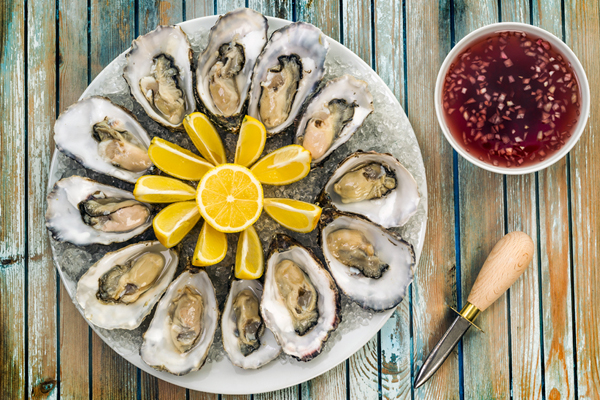 More Recipes
Lindisfarne Oysters as Hors D'Oeuvré
Hors-D'Oeuvré Chauds
There are a great many recipes for cooked oysters, the best known of which are below. However Lindisfarne Oysters are to be prepared, they must always first be poached in their own liquor. Cooked Lindisfarne Oysters are often best served in the deep halves of their shells. If they are to be glazed or sprinkled with cheese and browned, the shells can be embedded in a layer of salt spread on a baking sheet, to keep them upright. Glazing and browning must be accomplished very quickly, to prevent the oysters from becoming tough.
Lindisfarne Oysters á l'Americaine
Huitres á l'Americaine
Put the oysters in the deep halves of their shells. Lay them on a baking sheet lined with cooking salt. Squeeze a few drops of lemon juice on each oyster and season with a pinch of cayenne pepper. Sprinkle with fried breadcrumbs. Pour over them melted butter seasoned with lemon, salt and pepper. Brown in a very hot oven. Garnish with fresh parsley.
Shells of Lindisfarne Oysters á la Diable
Coquilles D'Huitres á la Diable
Make a border of duchesse potatoes and garnish with poached oysters, and thick Bechamel Sauce made with the water in which the oysters have been poached, seasoned with a pinch of cayenne. Sprinkle the shells with fried breadcrumbs. Brown. Shells with oysters cooked in this way are often known as Oysters á la Diable.
Shells of Lindisfarne Oysters Mornay
Coquilles D'Huitres Mornay
Make a border of duchesses potatoes and garnish with poached oysters, and Mornay Sauce. Sprinkle with grated cheese, pour butter over the shells, and brown.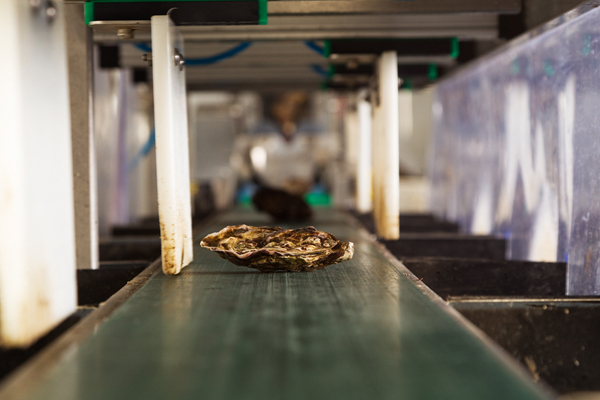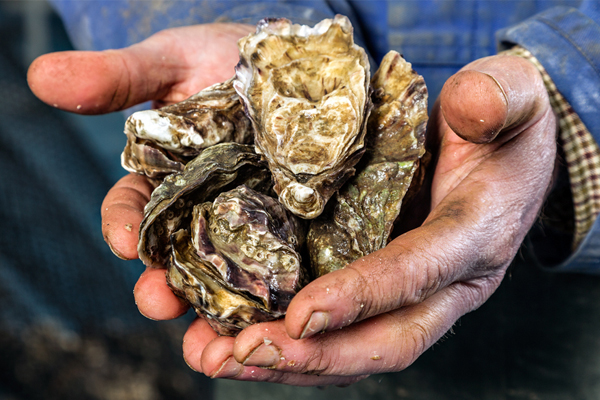 ADVICE
Handling and Preparation of Lindisfarne Oysters
It is most difficult to define the taste of oysters-they are briny but there is a freshness in the taste that is startling, and makes them deservedly highly prized. The classic way of serving oysters is opened, raw on a bed of cracked ice, decorated with seaweed if you can obtain it, lemon juice and Tabasco sauce too. Champagne is the obvious accompaniment, but any dry white wine is good, as is Guinness. Oysters can also be bought frozen in the half-shell, or as frozen meats, in frozen ready prepared dishes and smoked, in tins.
Lindisfarne Oysters have a surprisingly distinctive flavour when cooked, and a few can be used to great effect in dishes such as omelettes, steak and kidney pies and fish chowder.
They are also used in such classic dishes as Angels on Horseback, and Oysters Mornay, but they have wider uses too, with garlic or herb butter, seafood salads, or even breaded to give a contrast of textures.
Handling Oysters
The oyster in its shell is a living animal and should be treated with care. Like any other fish or shellfish, it should be kept cool. Store with the deeper cup shell underneath in order to retain the precious oyster liquor, and cover with a damp cloth.
Oysters can be kept alive for a few days in a refrigerator operating at 5-8°C (40-45°F) but should not be taken in and out of the refrigerator. Discard any oysters that are gaping, and do not close when tapped.
Opening (Shucking) Oysters
Oysters can be opened at the side and at the hinge. The aim is to cut the muscle attaching to the top, flat shell, and reserve the maximum liquor. Oyster's meats should be used as soon as possible after shucking, but can be kept for up to 24 hours in a refrigerator if covered.
Hold the oyster firmly with a cloth in one hand, hinged end towards you. Insert knife into the small gap in the hinge, twist blade to separate shells.
Slide knife blade along inside edges of upper shell to sever the muscle holding the shells together. Discard upper shell. Clean out any pieces of broken shell with the knife point.
Cutting towards yourself, run the knife blade under the oyster, to sever the muscle attaching it to the lower shell, thereby freeing it.
Better presentation will be achieved by turning the oysters over and serving in either shell, drained or in their own juices.