The Lindisfarne Oyster Farm lies on the site of the oyster beds established by the Monks of Lindisfarne Priory.
The Rev James Raine recorded evidence in "History and Antiquities of North Durham" to suggest that the oyster beds were originally founded in 1381, when the Monks bought an oyster filled boat from a Scotsman for 100 shillings. He deduced that prior to that date there were no local oysters and theorised that the very purchase started off the Monks own oyster farm.
In 1881, the land belonged to Lord Tankerville, who employed a man called Thomas Bowey to manage the rediscovered oyster beds.
In 1953 John Sutherland started farming at Ross, between Bamburgh and Holy Island. He and his wife Heather started farming oysters in 1989 after he noticed oyster shells at a low tide.
In 2003 Christopher and Helen Sutherland took over Lindisfarne Oysters, which continues to remain as a family run business.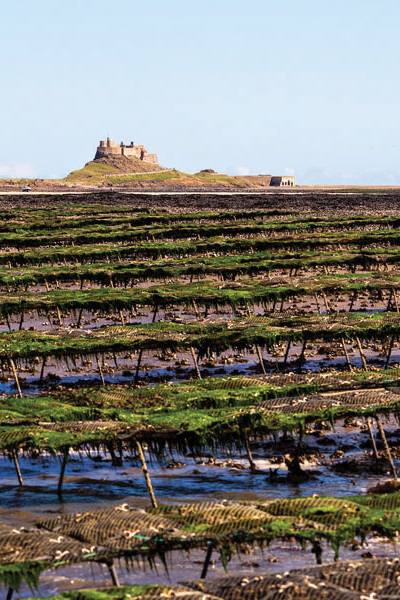 Lindisfarne Oysters, a family run business was established in 1989. Our high quality pacific oysters (Crassostrea Gigas) are grown on the seashore within the Lindisfarne National Nature Reserve.
We are members of the Shellfish Association of Great Britain and all of our oysters carry a Northumberland County Council EHO Healthmark. The Oyster Farm has a close working relationship with Northumberland County Council Environmental Health Office and operates a HACCP plan.
Fresh oysters are available all year round, direct to your door from the Lindisfarne Oyster Farm.
Our customers include private customers, restaurants and licensed premises and specialist wholesalers based throughout the whole of the United Kingdom.